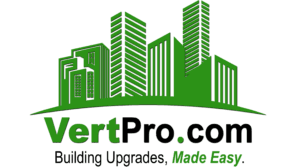 VertPro®, a Marketplace for Contractors to Win More Projects
Step 1:
Schedule a consultation to learn about current RFP's you can bid on now:
Win More Projects with 

VertPro®
Use 
VertPro®
 to find new customers, simplify the bidding process, and grow your business.
VertPro® is a SaaS platform for building owners & managers to comply with local building codes and get bids for capital improvements (e.g. HVAC, lighting, seismic retrofits, plumbing, etc.). We simply the bidding process by connecting our clients to qualified, pre-screened contractors who specialize in their project type(s). For contractors, we provide a marketplace that helps you win more projects and reduce your cost of customer acquisition. You never pay for leads, only for projects you win. VertPro® also provides a safe and secure project management platform for better communication and project updates. Apply to be a vendor today and start winning more projects!