2021 Benchmark Deadlines: We're Here to Help!
Happy New Year, everyone! Are you ready for your 2021 energy benchmark deadlines? Either way, read on! In 2020 we saw a lot of changes that impacted how we help you. Between deadlines being pushed back numerous times and utility companies adapting to WFH situations – similar to many of us – we had to adjust accordingly. We have learned so much from 2020 and are ready to assist you with your Energy needs. Read on to learn more about how we'll be supporting property owners, managers, and other energy professionals this year.
Meeting Your 2021 Energy Benchmark Deadlines
"Cheers to a new year and another chance for us to get it right." Oprah Winfrey
Benchmarking Is Back Up: Last year the pandemic turned the world upside-down. With everyone learning how to adjust, many cities either pushed back or halted their Energy Benchmark programs. It has now been roughly a year since the pandemic hit the U.S., and while it still rages on, it appears that many cities are reinstating their Energy Benchmark programs to their pre-COVID-19 standards. Depending on your city, you may have already begun to receive notices to file your 2021 reports. For example, Los Angeles sent property owners and managers the first notice to comply with the 2021 deadline back in December. Please keep in mind, that while the cities do attempt to notify owners, they aren't always successful. Given this, it's always a good idea to take a proactive approach and check for yourself – especially as deadlines and requirements can be altered.
What's My Deadline?
Presently, there are 39 existing Energy Benchmark programs nationwide. With so many programs it can be hard to keep track of your 2021 energy benchmark deadlines. To make it easy for you, we complied a chart for your reference.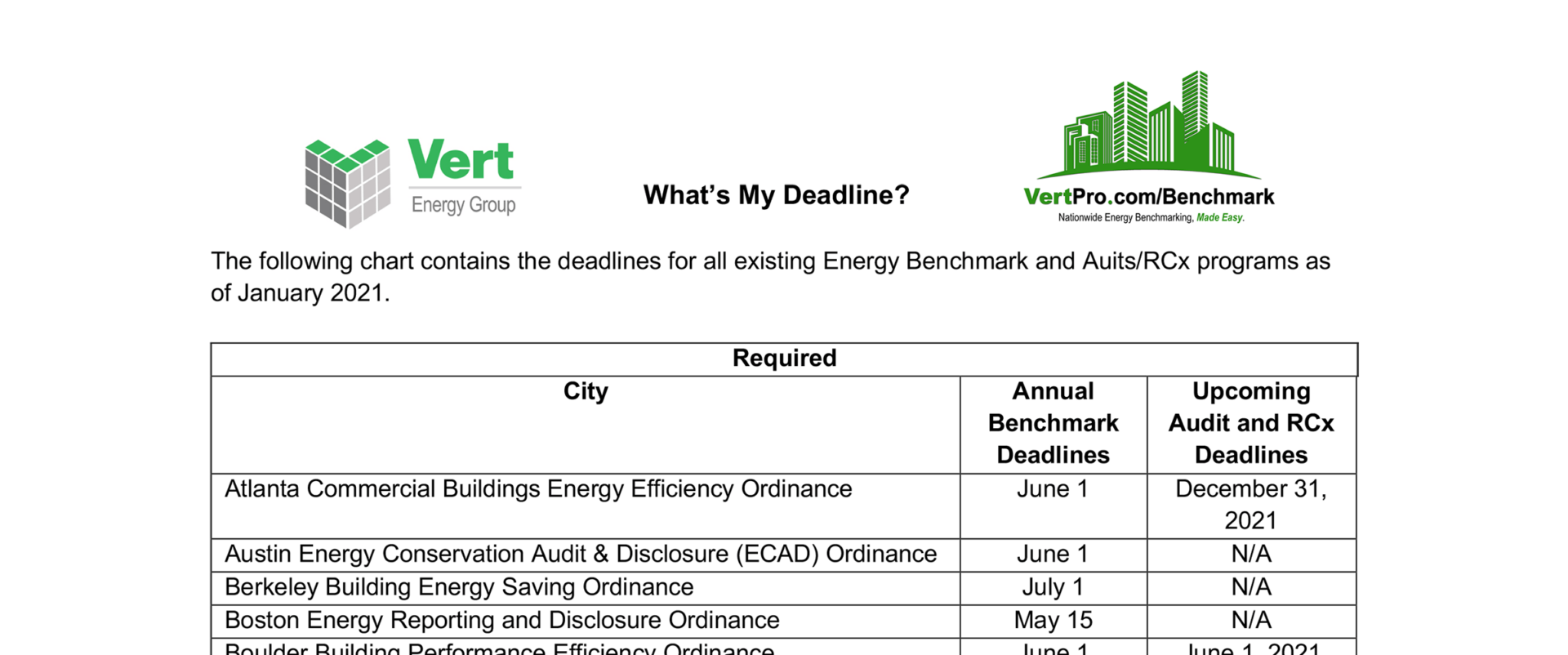 We're Here to Help: Filing your Energy Benchmarks and Audits can be a long and sometimes stressful process. If you have multiple properties it can be an even bigger headache to accomplish alone. At Vert Energy Group, we want you to know that we are here to make it easier for you with our technology platform, VertPro. On VertPro you can get started on your Energy Benchmarks, chat with a representative, and even get bids on your Energy upgrade projects.
Now that you know your deadlines, why not get started today? Some cities are having deadlines as early as April 1st, that's only 4-months away. From our experience, it can take a minimum of 4-7 weeks to obtain the necessary data from utility companies to file an Energy Benchmark. The Audit process is more in-depth and requires a minimum of two on-site visits. With all this in mind, it is important to get started as soon as you can to ensure you meet your deadlines.
Need Help?
For more information about the 2021 energy benchmark deadlines or to speak to a team member you can email us at support@vertpro.com or call 800-585-2690.
To learn more, request a free 1-on-1 webinar. You will learn an overview of new Audit/RCx requirements, review the upcoming deadlines, and focus on exemptions specific to your building(s). To register, go to http://www.EBEWEordinance.com/learn for Los Angeles and https://calendly.com/vertenergygroup/ll97 for NYC.