City/State Energy Benchmark Fines and Violations for Non-Compliance

Every year, building owners and managers are faced with the responsibility of ensuring their property is in compliance with their local city or state Energy Benchmark programs. Many of these Benchmark programs have penalties in place to enforce annual compliance. Failure to file required energy usage data can result in written warnings and/or monetary fines. Fines and violations for non-compliance can add up quickly, so it's important to be aware of the most common infractions. The following is a complete chart of Benchmark programs with existing penalties for non-compliance:
Benchmark Program

Annual Deadline

Penalty for
Non-Compliance

Atlanta Commercial Buildings Energy
Efficiency Ordinance

June 1st

$1,000

Austin Energy Conservation Audit &
Disclosure (ECAD) Ordinance

June 1st

$500-2,000

Berkeley Building Energy Saving Ordinance

July 1st

$100-1,000

Boston Energy Reporting & Disclosure
Ordinance

May 15th

$35-200

California Assembly Bill 802 (CA AB802)

June 1st

$500-2,000

Cambridge Building Energy Use Disclosure
Ordinance

May 1st

$300/day

Chicago Building Energy Use Benchmarking
Ordinance

June 1st

$100 + $25/day

Chula Vista Building Energy Saving
Ordinance

May 20th

$750-2,250

Denver Commercial & Multifamily
Building Benchmarking

June 1st

$2,000

Des Moines Energy & Water Benchmarking
Ordinance

May 1st

$50 + $300-500/day

Evanston Building Energy & Water Use
Benchmarking Ordinance

June 30th

$100

Fort Collins, CO Ordinance 144 Building
Energy & Water Scoring

March 1st

$1,000

Kansas City Energy Empowerment Ordinance

May 1st

Written Warning

Los Angeles Energy & Water Efficiency
(LA EBEWE)

June 1st

$202

Minneapolis Commercial Building Rating
& Disclosure Ordinance

June 1st

Written Warning + Civil Fine

Montgomery County Building Energy
Benchmarking Law

June 1st

Written Warning

New York City Local Law 84 (NYC LL84)

May 1st*

$500-$2,000

Orlando Building Energy & Water
Efficiency Strategy (Ordinance 2016-64)

May 1st

Written Warning

Philadelphia Building Energy Benchmarking
Ordinance

June 30th

$300 + $100/day

Pittsburgh Building Benchmarking Ordinance

June 1st

Publicly listed non-Compliant

Portland Energy & Water Use Performance
Benchmarking Ordinance (Maine)

May 1st

$20/day

Portland Commercial Building Energy
Reporting (Oregon)

April 22nd

$500

Reno Energy & Water Efficiency Program
(Ordinance 7068)

April 1st

$850

Saint Louis Building Energy Awareness Bill

April 1st

$50-1,000

Salt Lake City Elevate Buildings

May 1st

$500-1,000

San Francisco Existing Commercial Buildings
Energy Performance Ordinance (SF EBO)

April 1st*

$50-2,500

Seattle Council Bill 116731 (CB116731)

July 1st

$150-500/day
*Note: New York City and San Francisco have extended the 2022 deadlines to May 31st and May 15th respectively to accommodate for issues with the utilities and/or their systems.
While not all Benchmark programs issue written warnings and/or monetary fines, each city and state agency keeps records of compliance statuses year-to-year. Some of these records are made public via a compliance list. These public compliance lists are in place to hold all appropriate parties accountable and aware of their need to comply. You can often locate these public lists directly via your respective city/state Benchmarking website or by contacting your local program's support line directly.
For New York City building owners, it is important to note that non-compliance by the May deadline will not only result in a $500 violation but will also impact your Local Law 33 (LL33) Energy Grade. Failure to accurately file by the May deadline will automatically result in an LL33 Energy Grade of an F indicating failure to comply. Per the LL33 ordinance, your Energy Grade must be printed and displayed in a conspicuous location near each public entrance on the property. That means an Energy Grade of an F will be in clear sight for all occupants and visitors for an entire year until the new LL33 grades are released the following year.
Whether or not your local Energy Benchmark program has violations, Benchmarking is a key component in maintaining energy efficiency standards for your building while reducing your environmental impact. Avoid further penalties and fines by getting your building Benchmarked. If you're looking for an easy way to get started and into compliance, Vert Energy Group can help. We specialize in aiding businesses and owners with their annual local Energy Benchmark requirements. Visit VertPro.com/Benchmark-Help to get started today.
"The risk management on the front end of things are hard dollars sometimes for owners to spend. It's kind of like putting a new roof on your house. You have to do it, otherwise you can save the money but eventually it's all going to catch up to you." – Michael Klutho
NYC Local Law 11 (LL11) - Facade Inspection & Safety Program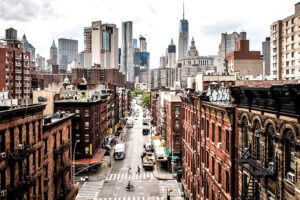 Under NYC Local Law 11 (LL11), all buildings with six or more stories must undergo an inspection of the exterior walls and appurtenances every five years. This inspection falls under the city's Façade Inspection and Safety Program, or FISP, which aims to improve public safety by identifying potential problems with building exteriors. During the inspection process, a licensed professional will examine a wide range of material and structural features on the building envelope. These may include windows, doors, masonry, and cladding materials, as well as waterproofing membranes and rooftop vents. The overall goal of FISP is to help ensure that New York buildings are safe and structurally sound while minimizing any potential risks to the property and its occupants. If any issues are identified during the inspection process, they will be flagged so that they can be promptly addressed by qualified contractors.
Failure to comply with LL11 will result in civil penalties issued by the New York City Department of Buildings (NYCDOB). In extreme cases, NYCDOB can revoke a building's Certificate of Occupancy and force it to be closed if it is not in compliance with LL11 as the building will be deemed unsafe. There are four different civil penalties you can receive:
Issue/Reason for Penalty

Penalty Fee

Late
Filing of the initial LL11 report

$1,000/month

Failure
to File the initial LL11 report

$5,000/year

Failure
to correct unsafe conditions

See
second chart

Failure
to correct SWARMP conditions

$2,000
Penalty Fees for Failure to correct unsafe conditions

 

Base Penalty

Plus

 

Year
1

$1,000/month

N/A

 

Year
2

$1,000/month

$10/linear
foot (l.f.) of shed/month

 

Year
3

$1,000/month

$20/linear
foot (l.f.) of shed/month

 

Year
4

$1,000/month

$30/linear
foot (l.f.) of shed/month

 

Year
5

$1,000/month

$40/linear
foot (l.f.) of shed/month

 
To manage the deadlines, NYC have assigned buildings to one of three cycles based on the last digit of their assigned block numbers. Based on your assigned cycle you have from three years to comply with the LL11 ordinance. The cycles are:
Last Digit of NYC Block Number

Cycle

LL11 Begins

Initial LL11 Deadline

4,
5, 6, and 9

A

February
21, 2020

February
21, 2022

0,
7, 8

B

February
21, 2021

February
21, 2023

1,
2, 3

C

February
21, 2022

February
21, 2024
Building owners are required to conduct and complete another LL11 report every five years after the initial compliance deadlines. If you have missed or yet to begin your LL11 report, now's the best time to get started to avoid civil penalties. Vert Energy Group can help connect you with local qualified and licensed contractors to help complete your LL11 inspections and report. Find a contractor to take on your LL11 today on VertPro.com/Upgrades to get complied and ensure your building is up to code.
Fun Fact: 3pm is the official time of observance every Memorial Day in the U.S.
Memorial Day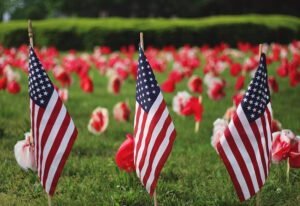 Memorial Day falls on May 30th this year. This American holiday began in the years following the Civil War to remember and honor the brave men and women who have given their lives in service to our country. It is a day of somber reflection, but also of celebration and thanksgiving. Over the years Memorial Day traditions have evolved. Originally, people would observe the holiday by decorating the graves of fallen soldiers and it grew into local and national celebrations with parades. With many offices and companies closed on Memorial Day, this holiday has become more of a long weekend referred to as "Memorial Weekend." It serves as an opportunity for many to take a weekend trip or host parties in what National Today states is a way "to balance out the soberness of the day and welcome summer." Whether you're staying in or taking a trip this Memorial Day, take a moment to pay tribute to honor the brave men and women who have given their lives in service to our country.
Fun Fact: According to a

2021 YouGov poll

, the most popular Mother's Day gift that mothers wanted were flowers followed closely by sharing a special experience with their family.
Danielle's Corner
Mother's Day
Happy Mother's Day to all the mom's out there! Did you know that Mother's Day was originally meant as a day to protest wars? In 1870, Julia Ware Howe wrote the Mother's Day Proclamation calling for the end of wars. Howe originally intended the day to be for mothers of different backgrounds to come together to protest war and fight for peace. While that idea didn't necessarily take off and become tradition, there are still some who do partake in protests in honor of the holiday. WomansDay.com makes honorable mention of the 1982 Lawrence Livermore Library at the University of California protest in which a large group of women came together to protest nuclear weapons.
The more common ideology of Mother's Day stems from Anna Jarvis. On the second Sunday in May of 1907, Anna Jarvis held a service to honor her mother, Ann Reeves Jarvis, who had passed away in 1905. A year later, in 1908 on the second Sunday of May, Jarvis holds another service to honor her late mother and passes out flowers to all who attend. This kickstarts Jarvis' goal to make Mother's Day official which as we know she accomplished in 1914 when President Woodrow Wilson makes the second Sunday each May the official Mother's Day. To this day, flowers are one of the most popular gifts bought on Mother's Day as we honor our own mothers. This Mother's Day is sure to thank your mom and/or the mother figure in your life for all the love and support they have given you. I know I'll be showering my mom with many thanks for putting up with my rebellious teen years.
Search by Zip to Find Applicable Energy Laws
There are over 30 cities/states with Energy Benchmark requirements - 16 have Energy Audit requirements as well! Use this free tool to check if your building has an upcoming Energy Benchmark or Energy Audit deadline.
FIND OUT HERE »