San Jose Energy Audit Ordinance
San Jose's Additional Energy Requirement
The
past few years San Jose has been busy developing their city's Energy programs.
Like other cities, San Jose began with an annual Energy Benchmark program and
then added on an Audit program. On May 14, 2021, the city of San Jose announced
that Ordinance No.
30550
aka the San Jose
Energy Audit Ordinance was now in effect. But what exactly does this mean for property
owners and managers in San Jose?
Beginning
2023 and 2024, San Jose property owners must prove that their building is
either energy and water-efficient or has been improving annually through the
annual Energy Benchmarking. Based on your building's performance, you will
either need to file a Performance Verification Report and/or an Energy Audit
and Retro-Commissioning report by your assigned deadline. Deadlines are
determined by property Gross Floor Area (GFA sq. ft.) and the last digit of its
assigned Santa Clara County Tax Assessor's Parcel Number (APN):
Properties
50,000+ sq. ft.

Last
Digit of APN

First
Deadline

Subsequent
Deadlines

0

May
1, 2023

Every
five years thereafter

1

2

May
1, 2024

3

4

May
1, 2025

5

6

May
1, 2026

7

8

May
1, 2027

9

Properties
20,000 sq. ft. – 49,999 sq. ft.

Last
Digit of APN

First
Deadline

Subsequent
Deadlines

0

May
1, 2024

Every
five years thereafter

1

2

May
1, 2025

3

4

May
1, 2026

5

6

May
1, 2027

7

8

May
1, 2028

9
Property
owners looking to file a Performance Verification Report must demonstrate and
provide sufficient evidence that the building meets one of the following
requirements:
• A Temporary Certificate of Occupancy or a Certificate
of Occupancy to prove the property is new and has been occupied for less than five years from its first filing deadline
• A California Licensed Professional (e.g., engineer,
architect, or qualified Auditor or Retro-Commissioning Professional) has determined that the property has achieved one or more Energy and Water standards each for a minimum of two out of three calendar years prior to their filing deadline. These standards are:
o ENERGY STAR® and US EPA Water Scores:
§ Received a score of 75 or higher from the US EPA
§ Score has improved by 15 points or more relative to its performance during the baseline year
o Weather normalized site Energy Use Intensity (EUI) and
Water Use Intensity:
§ Site EUI and/or Water Use Intensity per the Benchmarking Tool calculations is 25% below the calculated mean for its given property type
§ Site EUI and/or Water Use Intensity has dropped by at least 15% relative to its performance during the baseline year
If you can prove that your San Jose building has met both one Energy and one Water standard, you will only need to file a Performance Verification Report before the filing deadline. Otherwise, a Performance Verification Report must be filed in tandem with either an Energy and Water Audit or Retro-Commissioning report, or an Efficiency Improvement Measure Report. It is important to note that an Efficiency Improvement Measure Report must demonstrate that two measures were completed and reported no later than May 1st of your deadline year. The following is a list of Energy and Water Efficiency Improvement Measures set by the state of California:

• Installation of one or more of the following items on the property:
o In accordance with the California Building Standards Code (California Code of Regulations, Title 24)
§ Common area and exterior lighting features
§ Domestic hot water heater
§ Plumbing systems
§ Outdoor landscaping and irrigation systems
§ Greywater system
o Smart thermostat
o Solar thermal heating/cooling system
o Insulation on all hot water pipes in, accessible
locations
• Replacement of one or more of the following items on
the property:
o All refrigerators to ENERGY STAR® Certified models
o All gas stoves to electric induction stoves
o All gas water heaters to an electric heat pump or tankless water heaters
• Enrollment or participation in department-approved
actions:
o A utility demand response program
o An Energy and/or water utility retrofit program (e.g., rebate and/or incentive programs pertaining to upgrades)
This extensive report is due no later than your deadline. You could apply for a 60-day extension – no more than 180 days if proof of hardship is available – but the city isn't required to grant you this request. Given this, it's best to get started with filing right away. Schedule a meeting with
one of our professionals to learn how we can help you meet this new San Jose requirement. Click here
 or the Audit department and here for Building Upgrades.
"Climate change is no longer some far-off problem; it is happening here, it is happening now." – Barack Obama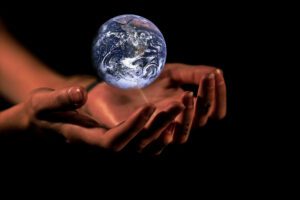 Last month, the World Economic Forum published a 14-page report titled "Urban Transformation: Integrated Energy Solution" in which they discuss how cities worldwide can become "decarbonized, sustainable, and resilient urban ecosystems" to help fight climate change. Through 13-case studies, World Economic Forum discovered that to achieve net-zero carbon goals and promote healthy communities, cities must develop integrated urban ecosystems based on two things:
    1. Environment: green building standards, low-cost green financing, and smart energy infrastructures
    2. Mobility: decarbonized public fleets and compact urban forms and planning
Based on the 13-case studies, there were a few notable projects and initiatives that we feel cities and building owners should consider adopting. In Asia, the Jurong Lake District in Singapore is considered a leading sustainable district with its mixed-use buildings (e.g. office and retail spaces, entertainment and attractions, and residential and travel accommodations). With numerous walking and cycling paths and plans for four major rail lines, the Jurong Lake District aims to reduce locals and visitors' reliance on cars while still meeting high sustainability targets. At the Viettel corporate headquarters in Hanoi, Vietnam, they have saved up to 20% in energy fees by making the switch to smart building technologies. Using smart building technologies, Viettel worked with ABB to set up a digital system to enable precise controlling of the building's operational systems (e.g., lighting, heating, security, and energy).
Over in Italy, they have developed two separate consumer programs: 110% Superbonus and Open Meter. Via the 110% Superbonus, apartment buildings, and homeowners can claim up to 110% tax credit on energy efficiency and/or anti-seismic improvements. The credit can be used over 5-year towards their taxes, sold to third parties, or used as credit on their supplier invoices. Italy's Open Meter project aims to allow 35 million Italian consumers the ability to track and control their usage via a smart meter device that collects real-time energy data from the grid. Similar to Italy's Open Meter project, Wellington and Auckland, New Zealand has FutureFit – a "gamified carbon calculator" that allows citizens to measure their personal climate impacts in regards to transportation, food, energy, and living. Based on their individual carbon emissions, citizens can participate in "challenges" to help reduce their carbon impact. And like any other game, you can share your progress and/or compete with friends and family.
Whether it's constructing new walking and cycling paths, adopting smart building systems, or releasing consumer programs (i.e., Open Meter and FutureFit) there are numerous ways that governments and the people can help fight the global climate crisis. To read the full report by the World Economic Forum, click here.
Feliz Día de los Muertos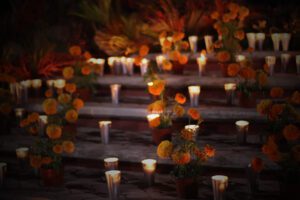 Día de Los Muertos, aka Day of the Dead, is a Mexican holiday where families honor and celebrate the lives of deceased loved ones. This two-day celebration – November 1st and 2nd – has traditions inspired by Aztec religious beliefs and practices. The Aztecs believed that when a person dies, their souls would travel to Mictlán – the final destination in the afterlife. To help the souls on their journey, the living would leave offerings upon decorated tree stumps. This Aztec tradition is like the Ofrendas that Mexican families create for their deceased. Ofrendas are typically adorned with pictures of the deceased, marigolds, calaveras (sugar skulls), foods, and objects the deceased enjoyed. In Disney's Coco, we see the bridge the deceased are traveling on is made of marigolds which highlights the flower's importance to the celebration. Marigolds, or flor de cempasúchil, have strong unique scents that are believed to attract spirits hence why they are placed on ofrendas to help guide the departed souls home. Something that many of us may be able to relate to is how families will even clean and decorate the graves of their loved ones where they will then share meals and stories beside the graves. To best summarize, Dayofthedead.holiday writes that Día de Los Muertos "is unlike any holiday where mourning is exchanged for celebration."
Fun Fact: Halloween originated from the ancient Celtic festival of Samhain and was popularized in the United States by Irish immigrants around the 1850s. – History.com.
Jack-O-Lanterns – More Than Just a Pumpkin
Did you know that the term "jack-o-lantern" originates from an old Irish folktale? According to History.com, there is an Irish myth about a man named "
Stingy Jack
" who tricked the Devil twice. On the first occasion, Stingy Jack invited the Devil for a drink and convinced the Devil to turn into a coin so they could pay. Instead of paying, Stingy Jack pocketed the money and kept it next to a silver cross so the Devil couldn't escape. The Devil only got free once he agreed would leave Stingy Jack alone for a year and not claim his soul. A year passes and when the Devil goes to see Stingy Jack, he's tricked again. This time Stingy Jack convinces the Devil to climb a tree to retrieve a piece of fruit. Once in the tree, Stingy Jack carved the sign of the cross on the tree so the Devil could not climb down until he agreed to leave Stingy Jack alone for another 10-years. When Stingy Jack dies, it's believed that God refused to let him in for his poor behavior. The Devil – still upset for having been tricked twice – keeps his word to not claim Stingy Jack's soul and therefore cannot let him into hell. Instead, the Devil gives Stingy Jack a lump of single burning coal to use as light and sends him off into the night. It is said that Stingy Jack took the coal and placed it in a carved-out turnip and uses it to wander the earth for eternity. The Irish would see his ghostly figure and deemed it "Jack of the Lantern" which was later shortened to "Jack O'Lantern." But it doesn't end there. To scare off Stingy Jack and any other potential evil spirits, people in Ireland, Scotland, and England began carving scary faces into vegetables such as turnips, potatoes, and beets. When the Irish immigrants came to the U.S., they brought Halloween and began carving faces into pumpkins instead of turnips and potatoes. And that's how the jack-o-lanterns as we know it came to be.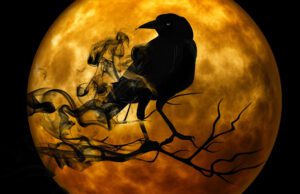 Danielle's Corner
Halloween
Halloween is easily one of my favorite holidays so even during a pandemic I'm on the hunt for fun ways to celebrate while also staying safe. Personally, I think the safest way to celebrate is virtual as you can participate from the confines of your own home. You can either attend a virtual event or host your own. Eventbrite.com has a good selection of free and paid virtual events all throughout October to get you in the Halloween mood. On October 17
th
, the Historic Dumfries Virginia, Inc. is hosting a free event called
Halloween Tea
where you'll hear scary stories and learn fun food and drink recipes. You'll even get a PDF copy of the recipes in case you plan on hosting a Halloween soirée of your own. Speaking of, for those who enjoy being hostess with the mostest, you can plan a virtual Halloween celebration. For those with kids, I'd recommend doing Halloween-themed Bingo or Scavenger Hunts. You can get free Halloween Bingo and Scavenger Hunt templates from
teambuilding.com
or create your own. Even as an adult I think that sounds like fun! Should you have little ones who enjoy the thrills of trick-or-treating, I would recommend pre-making goodie bags. Now, this may take some cooperation with your neighbors, but if they agree, you simply give your neighbors pre-filled and sealed goodie bags full of candies and treats to hand to your kids when they come knocking on Halloween night. This allows your kids to enjoy some semblance of Halloween normalcy while also helping to keep them safe. Even if you don't have kids, you could do this with your friends. I made my boyfriend a "spooky basket" last year filled with Halloween and autumnal-themed goodies – not just food – and he loved it. Spooky baskets are a fun way for adults to almost relive the excitement of trick-or-treating. Plus, if you're a creative soul it's just fun to make. Have a spooktacular Halloween and if you end up doing something fun, tag us on Instagram @vertenergygroup so the Vert Community can get ideas for next year!
Search by Zip to Find Applicable Energy Laws
There are over 30 cities/states with Energy Benchmark requirements - 16 have Energy Audit requirements as well! Use this free tool to check if your building has an upcoming Energy Benchmark or Energy Audit deadline.
FIND OUT HERE »