Closing out 2021
2021 at a Glance
As 2021 comes to a close, we would like to take a moment to reflect on all that we have accomplished here at Vert Energy Group. At the beginning of the year, we quickly realized that the pandemic wasn't going anywhere, and neither was the energy programs. Not only were cities reinstating the original filing deadlines, but some even launched new programs. Vert Energy Group always wants to ensure that clients are well taken care of, so we have taken everything we learned from navigating the pandemic in 2020 and adjusted our procedures. You may have seen new features on your Benchmark dashboard on
VertPro
to help streamline filing year-to-year. Two of the biggest updates to the dashboard were allowing the option for autopay and providing clients with the ability to download their property's Energy report straight from their VertPro account. With the addition of these features to the existing VertPro platform, we also launched our Building Upgrades services aka
VertPro Upgrades
. Through VertPro Upgrades, you can get help with a wide variety of upgrade projects to your building. Clients can simply create or login to their VertPro account and post the building project they want to be done. Building upgrades can pertain to any of the following scenarios: •  Upgrades required by a city program (e.g., NYC Local Law 11 and SF Fire Alarm Ordinance) •  Projects found/recommended via your Audit reports (e.g., HVAC systems) •  Upgrades that your team wants to make for personal energy efficiency goals (i.e., installing solar) If you have a project, you simply post it on VertPro upgrades, and Vert Energy Group will work to get you bids from pre-vetted local contractors. To post a project on VertPro Upgrades today and start getting bids, click
here
. Throughout the past two years and the challenges we've faced due to the pandemic, we're proud to say that Vert Energy Group has been able to continually grow and provide quality service to our clients. This past September was a huge highlight to our year as we were recognized by two acclaimed institutions – Inc. 5000 and
PropTech Outlook
. Every year Inc. 5000 releases a list of Fastest-Growing Private Companies and for 2021's list, Vert Energy Group placed 1603
rd
overall and 23
rd
within the Engineering industry alone. On top of that,
PropTech Outlook
featured Vert Energy Group as the magazine's cover story for the "Smart Building Edition." Within the article, that you can read
here
,
PropTech
acknowledges Vert Energy Group as a Top 10 Smart Building Solution Provider in 2021. All these accomplishments are a testament to our companies values to continually innovate and improve our business to better assist our clients. From Benchmarking to Audits and Building Upgrades, we want you to know that you can trust us to help you meet your energy needs. This past year we were fortunate to have the ability to bring on new members to the Vert Energy Group family. Each department has added new members to help not only our clients but also the teams' operations overall. As our numbers grow, we understand the importance of establishing and maintaining those internal connections despite our entire company still working remotely. Our monthly company events have become important in aiding these emerging bonds as it gives us all an hour to unwind, have fun, and get to know one another. Our Benchmark department has even begun hosting their own team bonding events in addition to their weekly team meetings. This has helped to strengthen the team's communication which in turn enables us to better serve you. Speaking of new members, in August the Vert Family was blessed with the birth of our Project Manager, Elize's sweet baby boy. Between new colleagues and growing families, it has been amazing to see the Vert Energy Group family grow and support one another.
Fun Fact: The average Christmas tree with lights uses about 450 watts which is the same usage produced by a 55-inch T.V. –  ElectricChoice.com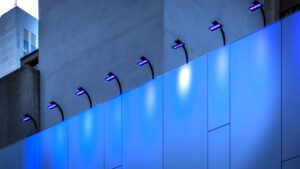 According to ElectricChoice.com, the average American home will use 301 kWh/day to power all their holiday decorations – indoor and outdoor – when they leave the lights on for 7-hours/day. The national average for electric costs is $0.12/kWh which means during the holidays you may be potentially spending roughly an extra $36/day in the holiday season alone. Now we're not saying to take all your lights down and become the Grinch or Scrooge this holiday season. Instead, consider making a few adjustments to how you decorate this year and moving forward. Last year we provided a few energy-saving tips for the holidays – read it here if you missed it – and we have more.
Last year's energy tips focused on two key points:
Lighting – switching to LED options and programing lighting timers
Cooking – efficiently prepping your holiday meal and using the heat generated from the oven instead of your thermostat
In the realm of lighting, Direct Energy recommends opting for reflective decorative options such as ornaments, candles, ribbons, and garland to adorn smaller areas like your hallway, staircase, entryway, and mantels. If you do opt for candles, consider using battery-operated options for a safer, yet just as festive, holiday glow around the house.
For those who live in colder areas or plan on hosting outdoor holiday gatherings, you may be tempted to purchase portable heaters. Before you do so, it is important to consider the impact heaters can have on the world. In a 2020 article by Ellie Long with Alliance to Save Energy, Long writes that the average outdoor heater alone generates an average of 40,000 BTU/hour. When run for 5-hours/week over the course of the 3-month long holiday season, your outdoor heater will be generating the equivalent amount of CO2 as that which is produced from driving 450 miles. It is important to stay warm but it's also important to pick energy-efficient options such as electric heaters or an eco-friendly propane heater. On that same note, portable space heaters, while good at keeping you warm, can also be costly. The Mason Public Utility District found that "each 1500-watt portable space heater, including those that are oil-filled, can cost up to $75 to run each month." If you have a portable space heater in every room of the house, you're looking at a hefty raise in your electric bills.
"Winter is a time for comfort, for good food and warmth, for the touch of a friendly hand and for a talk beside the fire: it is the time for home." Edith Sitwell
The Season of Cheer
Happy holidays! The great thing about the winter holidays is that there are so many variations to the same holiday. Take Christmas for example. Across the world, children are told stories of a man – most notably referred to as Santa Claus – who knows who has been naughty and nice and delivers gifts to the good children. In the U.S. kids leave cookies and milk for Santa while kids in
England
have been known to leave mince pies and brandy. Then you have the children in
Reykjavik, Iceland
who are taught about the 13 Santa's known as the Yule Lads who deliver gifts each evening for the 13-days leading up to Christmas. While Christmas is widely known, some countries don't celebrate it as fully as other winter holidays such as New Year's Eve. Per Japanese traditions,
Ōmisoka
is the second most important day of the year as it signals the final day of the old year and the eve of the new year. On Ōmisoka, families gather to eat toshikoshi soba to symbolize their crossing over to the new year. Whatever your holiday celebration, be it family meals, the exchanging of gifts, singing carols, or simply enjoying the company of loved ones there's no shortage of holiday cheer.
"The holiday season is a perfect time to reflect on our blessings and seek out ways to make life better for those around us." – Terri Marshall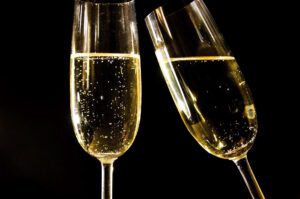 Worldwide New Year's Eve is celebrated to bring the old year to a close and welcome the new year. Across different cultures, New Year's Eve traditions are often used to manifest positive outcomes in the new year. Many of these traditions tie back to good fortune, health, love, and overall luck. There's a Spanish tradition, las doce uvas de la suerte, in which individuals will place a dozen grapes – one for each month of the year – in a glass of wine or champagne before midnight. Once the clock strikes twelve, the grapes are wished upon and then eaten. It is believed that all twelve grapes should be eaten during the chimes of the clock, or you risk a year of misfortune. In some cultures, all household cleaning is done before midnight on New Year's Eve. Any cleaning conducted on New Year's Day is seen as being synopsis with washing away your luck for the year. Other cultures have traditions to bring luck in specific areas of one's life. In
Brazil
, people wear specific colored underwear on New Year's Eve depending on what they are trying to achieve in the new year.
Five common colors
Brazilians opt for are white, green, yellow, red, and purple as they represent peace, health, money, love, and inspiration respectively. Whether or not you believe these traditions to be real or simply superstitions, it's still a fun way to manifest some extra luck in the New Year and partake in the festivities.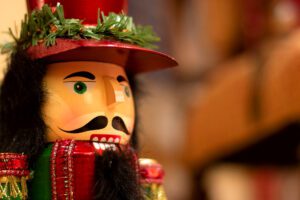 Danielle's Corner
Making the most out of this Holiday Season
December, the month of spiced apple cider and mulled wine, fresh-baked pies – pies just seem more appropriate during the holidays in my opinion – and gingerbread houses, holiday parties, and holiday shopping. Now I know that we're in year two of celebrating Christmas during a pandemic, but that doesn't mean we make the most of the holiday season. There are a lot of fun events that you can safely enjoy. As usual, I clicked my way on over to Eventbrite to look up some events this month in sunny southern California. Here's some that caught my eye: •  For lovers of the arts:
The Nutcracker
put on by the
San Pedro City Ballet
on December 10
th
and 12
th
($30-$40) or by the
A Terre School of Dance
on December 17-19 and December 22-23 ($18.50-$33). It's
The Nutcracker
. Need I say more. •  For the holiday shoppers:
Creative Babe Market – Holiday Sip & Shop at Taps in Tustin
is a free outdoor market on December 18
th
from 2:00-6:00 pm. Get your holiday shopping done while supporting small local businesses and enjoying live music and delicious foods and beverages. •  For families: experience a drive-in movie viewing of
The Polar Express
presented by The Port of Long Beach on December 18
th
. The movie starts at 6:30 pm but the lot will open at 5:00 pm so get there early for a good spot. •  For fans of Christmas lights: from December 3
rd
-January 2
nd
, you can enjoy a 75-minute cruise around Newport Landing to view the
2021 Newport Beach Christmas Boat Parade & Ring of Lights Cruise
. Tickets are $25.00. •  For those looking to stay active and keep the holiday gains away:
2021 Santa's Big Day 1M, 5K, 10K, 13.1, 26.2
is a virtual race. You choose how much you want to run – or walk – and do it from any location you want during the month of December. Bonus: a portion of the registration fees to participate ($25 to enter) will be donated to
Operation Warm
a nonprofit that provides new winter coats to children in need across North America. There's so much to experience this month and I cannot wait to participate – safely of course! If you attend any of these events or even host your own little celebration share your experience with us! Tag us on Instagram @vertenergygroup so our Vert Energy Group community can see how you're celebrating the holidays this year! From our Vert Energy Group family to yours, happy holidays! Wishing you a holiday full of magic, cozy vibes, an abundance of yummy treats, and a year of joy and good health. See you next year!
Search by Zip to Find Applicable Energy Laws
There are over 30 cities/states with Energy Benchmark requirements - 16 have Energy Audit requirements as well! Use this free tool to check if your building has an upcoming Energy Benchmark or Energy Audit deadline.
FIND OUT HERE »