Happy New Year from our Vert Energy Group Family to yours! We look forward to continuing to serve our property managers and building owners in 2023 and are thrilled to share some exciting news!
VertPro® is ringing in the new year with a new platform with a fresh new design, improved speed, and easier to use! With a growing client base and ever-changing energy efficiency laws, the new platform will create a better customer experience by managing multi-service compliance requirements in one easy-to-use space. From energy benchmarking and energy audits to building upgrades and rebates, the new platform will identify all energy-saving opportunities for multi-building portfolios nationwide, with the click of a button.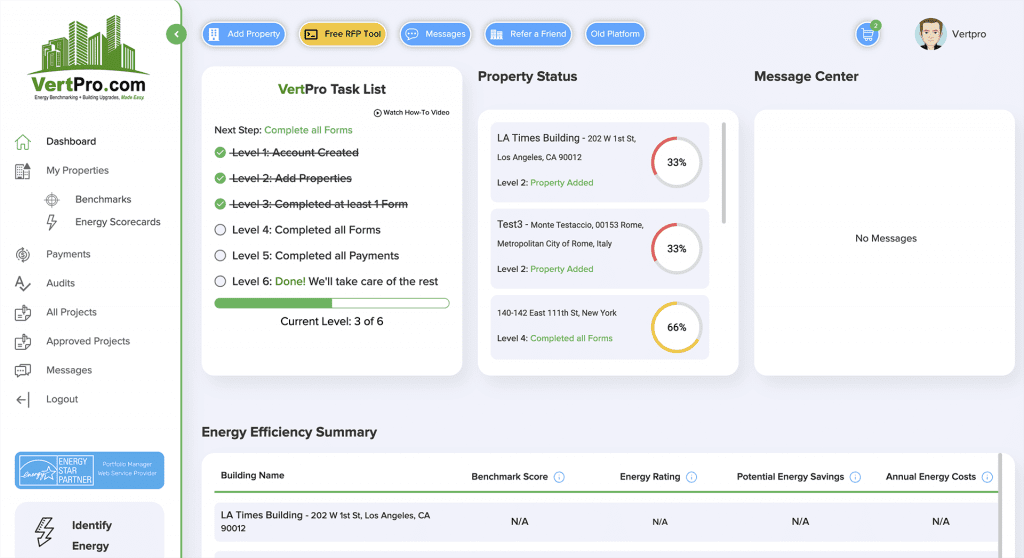 Both new and existing users will enjoy the new and improved dashboard which consolidates all the building's information into one safe and secure place. A notable new feature is the chat box which adds to a more user-friendly platform, creating ease of contacting a professional with any questions. A refresh of the energy scorecard tool utilizes all your building's information to discover the amount of money that potentially can be saved by implementing energy-saving measures.
As of 2022, there were 54 Benchmarking laws nationwide, all with various and ever-changing requirements. Starting in 2023 that number jumps to 56, as New Jersey State and Miami, Florida adopt Benchmarking laws, with other cities and states following suit in future years. Starting in 2023, New Jersey State Law requires a benchmark to be completed by October 1, 2023, while the "Building Efficiency 305" ordinance of Miami has various deadlines depending on the square footage of your building. Properties covered under Miami's "Building Efficiency 305' ordinance include multi-family and commercial buildings with 20,000 square feet or greater of floor space and 5 or more units. The Miami deadlines are as follows:
Size (Gross Floor
Area)

Initial Compliance
Required by:

Buildings 200,000 sq. ft. or larger

June 30, 2023

Buildings between 100,000 – 199,999 sq. ft.

October 1, 2023

Buildings between 50,000 – 99,999 sq. ft.

October 1, 2024

Buildings between 20,000 – 49,999 sq. ft.

October 1, 2025
VertPro® makes it easy to comply with all energy benchmarks, energy audits, mandatory building upgrades, and improvement laws nationwide. Find trusted contractors and simplify the process of the various, often confusing, local, and federal sustainability regulations with VertPro®. Stay in compliance, identify underperforming systems, and get multiple bids reviewed by a specialist, for all your building's projects. Whether you have 1 property or hundreds, the VertPro® Platform does it all.
"I like the dreams of the future better than the history of the past." – Thomas Jefferson
New Weekly Blog Series on VertPro.com/Blog/
 – Locations
• Los Angeles, CA
• New York, NY
• Chicago, IL
• Austin, TX
• San Diego, CA
• San Jose, CA
 – Commercial Service Types
• Landscaping Contractors
• Plumbing Contractors
• Roofing Contractors
• Renovation/Remodel
• Concrete Contractors
• Electrician Contractors
Another exciting project of 2023 brings you a weekly blog series! As an industry expert, VertPro® powered by Vert Energy Group, is offering our expertise in various project categories, with a weekly blog series to provide you with critical information to help you make informed decisions. You'll be able to find them on both VertEnergyGroup.com and VertPro.com.
You can find frequently asked questions answered, more information about various laws, or simply additional knowledge and expertise on how to make your building more energy efficient. We know it can be difficult and time-consuming to find qualified and comparable vendors to complete large projects and understanding how to read bids can make the best of us crazy! These blogs will answer all those questions and more! Not fully aware of what your building requires to comply with state or city laws, this blog will help identify those exact requirements. Looking for more information on how to make your building more efficient and potentially save time and money? You've come to the right place! Check out a few that are already posted:
The Arctic Blast and how much strain it can put on a heating system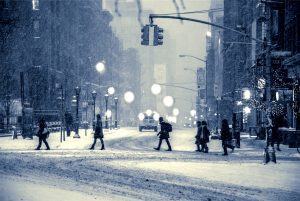 As you may have personally experienced, an arctic blast recently brought about extremely cold temperatures, heavy snow, and high winds to much of the United States. This has caused at minimum many travel disruptions amidst the holiday season, but many around the country were more severely impacted by blizzards and dangerous negative-degree wind chills. A particularly harsh winter can put a lot of strain on your heating system, and as one of the most important parts of keeping your business safe and warm, it's important to know how to best care for its efficient operation.
Heating systems should be routinely serviced and properly maintained to prepare for the cold winter months. They should be inspected regularly for any wear and tear that may have occurred during the summer months, as well as ensuring all safety settings are up to date and not expired. Additionally, filters should be replaced regularly to ensure that the system is clean and functioning at its highest efficiency.  Heating systems should also be checked for proper levels of antifreeze, which will help keep the system running smoothly throughout the colder months. Finally, any blockages should be cleared to avoid any additional strain due to freezing temperatures. With proper maintenance and preparation, you can make sure that your heating system will be able to handle even the coldest winters.
As well as regular maintenance, understanding your specific type of heating system can really make a difference when preparing for the cold winter season. Heating systems come in all shapes and sizes, and some require special maintenance requirements or procedures. Taking the time to research your system will ensure that you know how best to prepare it for heavy winters.
Two questions we always hear are what to do if you lose power in the winter, and what temperature is best to leave your heating system. If you do lose power during a winter storm it is important to take the necessary precautions to protect yourself and your heating system. If you are using an electric heater, make sure that all cords are unplugged before venturing outside in cold weather. Additionally, use flashlights or lanterns instead of candles as these are much safer when dealing with a power outage. In the event of a prolonged power outage, it is important to keep your heating system turned off as this can help to protect against any damage that may occur due to a lack of power. The best temperature to leave your heating system on during a particularly harsh winter depends on your needs and the type of heating system you have. Heating systems should be adjusted accordingly to keep your business comfortable during cold winter months, while also avoiding any unnecessary strain that may arise with too high temperatures.
Taking care of your heating system will ensure that it runs properly and efficiently all winter long. Heating systems should not be taken lightly, but with proper preparation and maintenance, you can ensure that your system is ready to handle even the most extreme winter conditions. Heating systems are an essential part of keeping warm in the winter so take the time to get to know yours!
"Cheers to a new year and another chance for us to get it right." —Oprah Winfrey
Does everyone celebrate the New Year on the same day?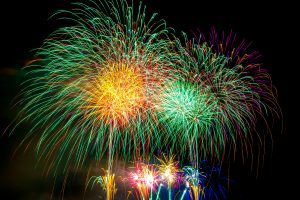 New Year is a widely celebrated holiday around the world, with many countries having their own specific New Year traditions. Some countries celebrate New Year's according to the Gregorian calendar, which traditionally falls on 1 January, while others mark New Year's on other dates, such as 1 March or the Chinese New Year. While New Year's Day is celebrated on different dates around the world, we all can find solace in celebrating the start of the New Year and new opportunities.
Some examples of the different celebrations are, in Japan New Year's Day is known as Oshogatsu and is celebrated by families gathering to eat a traditional New Year's meal called osechi ryori. In many Latin American countries, New Year is a time for friends and family to gather, enjoy a meal, and light fireworks. New Year's Day is also celebrated with parades and festivals in many countries, such as the famous New Year's Eve Ball Drop in New York City's Times Square or the Sydney Harbour fireworks display in Australia. No matter where you are, New Year is a time for celebration!
 As New Year is celebrated at different times in different parts of the world, it means that New Year's Day celebrations span days and even weeks rather than just one single day. This allows people to experience New Year and its traditions throughout its start, giving New Year's celebrations around the world a truly global flavor. So, even if New Year doesn't fall on the same day for everyone, it remains an important global celebration that brings us all together.
No matter where you are or when New Year falls on your calendar, New Year's Day is a time to come together with friends and family and celebrate the New Year. However, you celebrate New Year's – whether that's according to the Gregorian calendar or your own cultural traditions – it's a time of renewal, reflection, and hope for the future. So, while New Year may not fall on the same day for everyone, it's a time to celebrate!
Fun

Fact:
The first known celebration of a new year took place in Ancient Babylon nearly 4,000 years ago. The Babylonians celebrated their new year, known as Akitu, for 11 days in what would be modern-day Iraq. The festivities were filled with parades and parties, and a re-enactment of the myth of Marduk—the god who defeated the chaos monster Tiamat. The ancient Romans also marked the beginning of a new year with celebrations, usually lasting from December 17th through January 1st. The celebration was called "Saturnalia" and featured feasting, drinking, gift-giving, and merrymaking. The Roman version of New Year's resolutions involved asking the gods for forgiveness for any wrongdoings from the previous year.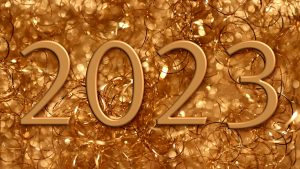 Stephanie's Section
New Year's Resolutions
New Year's Resolutions are an important part of planning for a successful year ahead. New Year's resolutions have been used for centuries to set intentions and goals for the upcoming year. Making New Year's resolutions can be an empowering first step in focusing your energy on achieving the things you want to accomplish. Whether it's personal, professional, or financial goals, New Year's resolutions can help you gain clarity and direction for your life.
The key to successful New Year's resolutions is setting achievable goals that are specific, measurable, attainable, relevant, and time-bound (SMART). Set realistic expectations for yourself and be sure to break down long-term goals into smaller, achievable tasks. As you track your progress and start to reach milestones, remember to reward yourself for your accomplishments along the way.
By setting New Year's resolutions and following through on them, you can make this year a great success. Take some time to reflect on what you want to achieve in the upcoming year and create a plan of action to make it happen. With some dedication and hard work, you can use New Year's resolutions to make real and lasting positive changes in your life.  Stay focused and don't forget to reward yourself along the way. Happy New Year! Wishing you all the best for 2023!
Search by Zip to Find Applicable Energy Laws
There are over 30 cities/states with Energy Benchmark requirements - 16 have Energy Audit requirements as well! Use this free tool to check if your building has an upcoming Energy Benchmark or Energy Audit deadline.
FIND OUT HERE »