A Gift for You
A Gift for You! All New VertPro.com
Be one of the first to experience a new and improved Energy Benchmarking Dashboard with new easy-to-use features. Managing your entire portfolio has never been easier and faster! With a growing client base and additional services, the new platform will create a better customer experience by managing multi-service compliance requirements in one easy-to-use space. From benchmarking and audits to building upgrades and rebates, the new platform will identify all energy-saving opportunities for multi-building portfolios with the click of a button. New users can enjoy the new and improved dashboard that consolidates all their information in one safe and secure place upon sign-up. In contrast, existing users will experience the new dashboard and features upon rollout on January 2, 2023. A notable new feature is the chat box which adds to a more user-friendly platform, creating ease of contacting a professional with any questions. A refreshed energy scorecard tool utilizes all your building's information to discover the amount of money that can be potentially saved by implementing energy-saving measures. VertPro® makes it easy to identify new opportunities, implement upgrades, and comply with various, often confusing, local, and federal sustainability regulations. The platform's innovative features simplify the process from start to finish, allowing building owners to save money, reduce project risks, decrease operating costs, and increase property values. From identifying underperforming buildings, and conducting Energy Audits to find cost-effective improvement opportunities, to sourcing energy rebates and financing opportunities to get your projects off the ground, VertPro® does it all. Sign up today to reveal the new features we couldn't wait to share with you
"Without change, there is no innovation, creativity, or incentive for improvement." – William Pollard
Closing out 2022 Compliance & Looking Ahead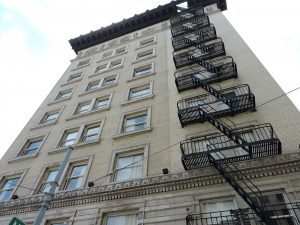 As we close out 2022, and with 2023 quickly approaching, it is important to make sure you have complied with all benchmarking laws for 2022. With only 25 days left in 2022, time is of the essence to avoid potential fines and violations for non-compliance. If you have already completed your 2022 benchmark, it is a great time to start planning for your 2023 benchmark! Looking ahead to the upcoming year it is important to note that more cities are adopting benchmarking laws and requirements are being updated for already existing laws.
Adding to the already 50+ cities that have benchmarking requirements, New Jersey State and Miami, FL will begin to require compliance with benchmarking laws starting in 2023. The City of San Francisco will also require all multi-family buildings to upgrade fire alarm systems. Planning early for this will be beneficial as fire horn prices are set to drastically increase by 20-30% in 2023.
The City of San Francisco will require all multi-family buildings to upgrade fire alarm systems to pass the "Pillow Test" to comply with the SFFC Section 1103.7.6.1. After several devastating apartment fires hit the City in 2016, the San Francisco Board of Supervisors passed legislation to seriously strengthen safety in multi-family properties. Most of these requirements went into effect shortly thereafter. However, a new mandate goes into effect on July 1, 2023, requiring a manual fire alarm system that would be more likely to wake sleeping residents.
These new alarms are not only louder but more effective, as they also use low-frequency horns or speakers that are more likely to wake a sleeping person. These lower frequencies require more energy to make them sound and unfortunately most existing fire alarm systems are not designed to handle the additional power required. Therefore, a new system will often be required to be installed before July 1, 2023.
As energy efficiency continues to be an increasingly important issue for cities, states, and the nation, new energy laws and regulations are being enacted to mandate better performance from commercial and multifamily properties. Metrics you need to reach, deadlines, and specifics on how to file your energy performance with your municipality vary from city to city. To find out what this means for you and your building continue reading here: The Vert Report Vol. 25 – New Energy Efficiency Laws (vertenergygroup.com)
Get to Know Your Local Energy Audits
With consistently changing laws and regulations, and new requirements being added every year, we understand that compliance can be tricky. Energy Audits are the first and most critical step toward understanding how energy is being used, how it is being wasted, and how you can take control of future price increases. To ensure compliance by deadline it's suggested that you request your audit 6-9 months prior to the due date, making it time to start planning for 2023!
Vert Energy Group has been servicing the Los Angeles and San Francisco area for many years and are experts in the Energy Benchmarks and Energy Audits/RCx field. Vert Energy Group engineers conduct their audits in accordance with the high standards developed by the American Society of Heating, Refrigerating, and Air-Conditioning Engineers (ASHRAE).
We have compiled a breakdown of important dates and requirements for upcoming Energy Audit deadlines for Atlanta, GA; Boston, MA; Austin, TX; Seattle, WA; and Reno, NV. These are cities in which we are now available to help complete your Energy Audit and keep you in compliance! Mark your calendars with important dates, and requirements to avoid potential fines/violations.
Atlanta, GA
CBEEO- Commercial Building Energy Efficiency Ordinance

Deadline:
· Dec 31, 2022: Bldg IDs ending in "2"
*2022 deadline extended to January 4th, 2023
· Dec 31, 2023: Bldg IDs ending in "3"
· Dec 31, 2024: Bldg IDs ending in "4"
· Dec 31, 2025: Bldg IDs ending in "5"
·  Dec 31, 2026: Bldg IDs ending in "6"
·  Dec 31, 2027: Bldg IDs ending in "7"
·  Dec 31, 2028: Bldg IDs ending in "8"
·  Dec 31, 2029: Bldg IDs ending in "9"
Sq. Ft. Minimum:
·      Commercial ≥ 50,000
·      Public ≥ 25,000
Length of Compliance: Every 10 years starting in 2020
Audit must be comparable to an ASHRAE Level II
audit.
Austin, TX
ECAD – The Energy Conservation Audit & Disclosure Ordinance
Deadline: Time of Sale / June 1, 2023
Sq. Ft. Minimum:
· Multifamily bldgs ≥ 5 units, 10 years or older
·  Homes 1-4 units, 10 years or older
Length of Compliance: Time of Sale & once every 10 years after
Exemptions:
·Bldg is less than 10 years of age.
· Bldg participated in Austin Electric Utility program or Austin Energy Free Weatherization Program within 10 years of the sale and performed appropriate efficiency measures, or the purchaser has agreed to do so within six months after the time of sale.
Energy Audits + Mandatory Upgrades: After conducting an audit, multifamily owners whose energy use exceeds 150% of the average must implement improvements
to reduce energy use by 20%.
Boston, MA
BERDO – Building Energy Reporting and Disclosure Ordinance
Deadline:
· May 15, 2021: Non-residential bldgs 35,000 to 50,000 sq. ft.
·  May 15, 2022: Residential bldgs ≥ 35 units or 35,000 sq. ft.
·  May 15, 2024: Non-residential bldgs ≥ 50,000 sq. ft.
·  May 15, 2025: Residential bldgs ≥ 50 units or 50,000 sq. ft.
Sq. Ft. Minimum:
·  Commercial ≥ 35,000
·  Public ≥ 25,000
·  MultiFamily ≥ 35,000/35 units
·  All Public/Gov't
Length of Compliance: Every 5 years

Audit OR performance actions required. Actions are significant investment in efficiency, comprehensive energy management plan, or retro-commissioning of energy systems. Bldgs over 50,000 sq. ft. have more stringent requirements. Owners can comply by retro-commissioning instead of an audit.
Reno, NV
ReEnergize: Energy and Water Efficiency Program
Deadline:
·      2026: City bldgs.
·      2028: Agency-owned/privately-owned bldgs ≥ 100,000 sq. ft.
·      2029: Agency-owned/privately-owned bldgs ≥ 50,000 sq. ft.
·      2032: Agency-owned/privately-owned bldgs ≥ 30,000 sq. ft.
Sq. Ft. Minimum:
·     Commercial & Multifamily ≥30,000 and does not meet performance target
·      Public/Gov't ≥ 10,000 and does not meet performance target
Length of Compliance: Every 7 years
Exemptions: For energy and water audit:
·       LEED Existing blgs (2009 or later)
·       LEED O&M for existing bldg (Version 4 or 4.1)
Comparable rating system for existing bldgs
Retuning or an energy and water audit are pathways to fulfill performance targets of the law.
Seattle, WA
Building Tune-Ups, SMC: 22.930
Deadline:
·      Oct. 1, 2021: bldgs 50,000 to 69,999 sq. ft. excluding parking
·      Oct. 1, 2023: bldgs ≥ 200,000 sq. ft.
·      Oct. 1, 2024: bldgs 100,000 to 199,999 sq. ft. excluding parking
·      Oct. 1, 2025: bldgs 70,000 to 99,999 sq. ft. excluding parking
Sq. Ft. Minimum:
·      Commercial and City-owned ≥ 50,000
Length of Compliance: Every 5 years
Building energy and water tune-ups include both mandatory and voluntary corrective actions for building owners to undertake.
If you are looking for more information about your city's requirements or if your city isn't listed above, head on over to https://vertpro.com/2023-Energy-Audits to speak with a professional today! A compliance specialist will answer any questions you may have and help simplify any requirement to get you in compliance today!
"The biggest room in the world is the room for improvement." - Helmut Schmidt
How to Build Santa's Sleigh
Santa's sleigh is one of the most iconic images of Christmas, but have you ever wondered how it is put together? Santa sure knows his way around a toolbox! Here are some tips on how to build your own sleigh just like him.
First, you'll need to gather your materials. For the frame and body of the sleigh, you'll need wood. Make sure you pick pieces that are strong and light! You'll also need some large nails or screws to hold it together. For the runners, you can use either metal or wood – just make sure they're smooth for a comfortable ride. Next up is painting your sleigh. Choose a festive color like red, green, or white to get that classic Santa look. Don't forget to add some eye-catching decorations like jingle bells and candy cane stripes!
Once you're done painting and decorating, it's time to attach the runners. Make sure they are securely fastened so your sleigh can take off with ease. To give it an extra special touch, why not add a few reindeer figurines on the front? Finally, you'll need to give your sleigh some oomph. You can buy pre-made rocket boosters or attach some large helium balloons for a classic Santa lift-off! Be sure to keep the balloons safely away from any heat sources.
And there you have it – a festive sleigh that's sure to make Santa proud! Whether you plan on taking off around the world or just using it for decoration, building your own Santa sleigh is an exciting and rewarding project. What are you waiting for? Get to building your Santa sleigh today!


Fun

Fact:

Did you know that Jingle Bells was the first song to ever be broadcast from space? Upon re-entry to the earth's atmosphere, ground controllers began to hear Jingle Bells being played by the astronauts aboard the Gemini 6!
Another fun fact about Jingle Bells: It was never written to be a Christmas song! James Lord Pierpont who wrote Jingle Bells first performed it at a thanksgiving church service. If you listen to the lyrics there is no mention of any holiday at all! Jingle Bells only became a Christmas song decades later in 1857! Source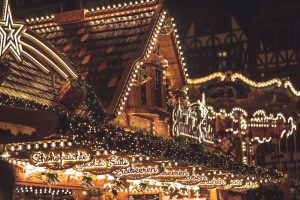 Stephanie's Section
Holiday Celebrations
No matter where you go, you can find something special to celebrate in the wintertime! Holidays during this season range from religious observances to secular festivities all around the world. Here are some of our favorite winter holidays from different countries. In Germany, people gather for Weihnachtsmarkt (Christmas Markets) which are festive public markets filled with traditional treats and sweets. Decorated stalls are scattered throughout the streets, offering visitors hot drinks, handmade items, and plenty of holiday cheer.
In Japan, people celebrate Oshogatsu (New Year's Day). It is a time for families to come together and reflect on the past year while looking forward to the future. Although gifts are exchanged, the emphasis is on spiritual renewal and appreciation for nature's beauty. In the United Arab Emirates, Eid al-Fitr marks the end of Ramadan—a month-long period of fasting. After a day spent celebrating with family and friends, people dress in their finest clothes to attend mosques and offer prayers of gratitude. This is followed by a huge feast shared with family and friends known as the "Breaking of the Fast".
Regardless of where you are in the world, winter is a special time to come together and celebrate! Holidays around the world provide us opportunities to come together and appreciate our differences while uniting over shared experiences and moments of joy. So, wherever you are this winter season, take a moment to explore the holiday traditions that make us all unique!
Happy Holidays!
Search by Zip to Find Applicable Energy Laws
There are over 30 cities/states with Energy Benchmark requirements - 16 have Energy Audit requirements as well! Use this free tool to check if your building has an upcoming Energy Benchmark or Energy Audit deadline.
FIND OUT HERE »